The root families:
The four families represented on this site those of my father Christopher James Damien ENRIGHT (Damien), my mother Sally Elizabeth FARMAN (Liz), my mother-in-law Olive Mary CLAGUE and father-in-law Kenneth McDougal GALLOWAY (Ken).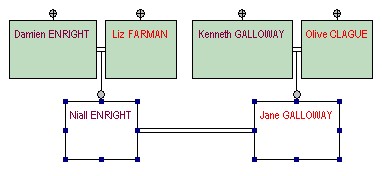 The families have been separated out because of the volume of material I have collected and the probability that visitors are likely to have a connection with only one of the families.
Where to Start:

If you click on any of the surnames above you will go straight to the main page for each family. If you are not logged in, then you will need to do so - please read the instruction on the left of this page.
For a general introduction to the site and how to access the records please read the "how to" page.
Please note that the vast majority of the information on this site is "copyleft" for you to share. See my copyright notice on the the techniques pages.
Sharing
Follow the following link to see how you can make a contribution to these family histories. If you would like to send me some of the material on this site in higher-resolution to add to your collection, or you have comments for me directly, then simply contact me!
You can get details of the individuals I am most concerned to locate in the "Most Wanted" page.
Thanks!
Niall Enright